College talks to hundreds at public events
9 August 2018
We attended three major public shows over the summer, talking to members of the public about veterinary careers, the Find a Vet search tool, the Practice Standards Scheme (PSS), and our joint campaign with the British Veterinary Association (BVA) to highlight the benefits of registering pets with veterinary practices, #petsneedvets.
This was the third year that we attended BBC Countryfile Live, held in the grounds of Blenheim Palace in Oxfordshire from 2 to 5 August, but the first year for two major events: Devon County Show, held near Exeter from 17 to 19 May, and the Royal Welsh Show, held near Builth Wells from 23 to 26 July.
At each event our stand was transformed into a make-believe veterinary practice with lots of activities for both children and adults, including a number of surgical models for budding 'veterinary surgeons' to 'operate' on and a model dog and rabbit on which future veterinary nurses could practise their bandaging skills.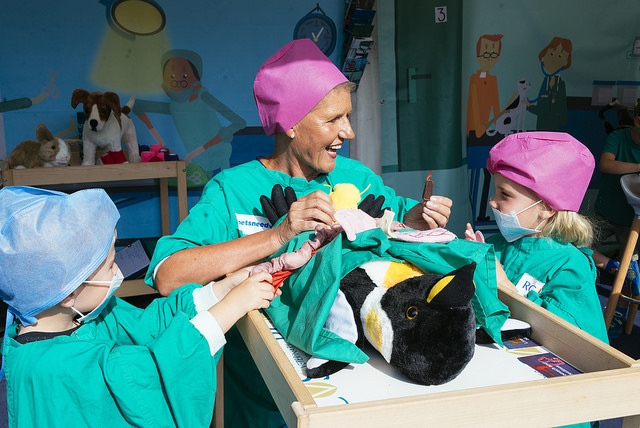 The stands were attended by our staff, PSS Assessors, and RCVS and VN Council members including RCVS Council Vice-President Niall Connell and VN Council Vice-Chair Matt Rendle.
Altogether, they handed out about 2,000 canvas bags as well as 1,000 logo bugs to kids, all themed around the joint #petsneedvets campaign. All of the canvas bags contained information about the Find a Vet search tool and Practice Standards Scheme bookmarks.
Over the course of the Royal Welsh Show and BBC Countryfile Live they talked to 350 people, about 200 of whom were asking about veterinary careers, as well as greeting Welsh CVO Christianne Glossop (pictured top) and canine fundraisers for Eden Animal Rescue Max and Paddy (pictured right).
Ian Holloway, our Director of Communications, said: "These kind of public-facing events are wonderful opportunities to meet members of the animal-owning public, with the Royal Welsh Show affording us a whole new avenue to talk to large-animal owners.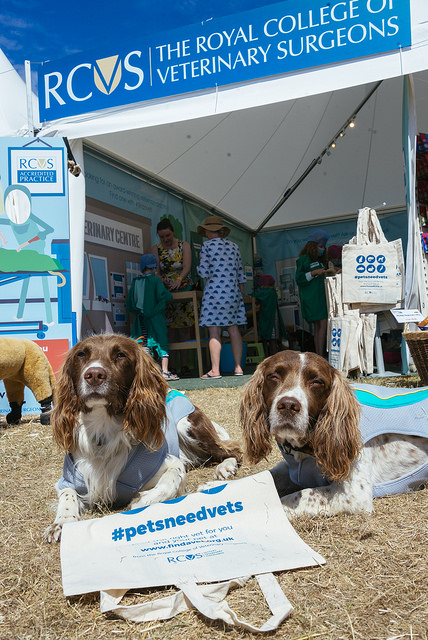 "Over the course of these multi-day events we chatted to hundreds of people about our role and the services we provide, and explained more about the veterinary and veterinary nursing professions.
"Promoting the Practice Standards Scheme and Find a Vet helps people to make informed decisions about their choice of veterinary practice, so we would urge practices to ensure their details are up to date online."
To use the Find a Vet search tool please visit our website. You can also find further information about veterinary careers and the Practice Standards Scheme, and all tweets from the #petsneedvets campaign can be found on Twitter. Please use the same hashtag and link to www.rcvs.org.uk/petsneedvets to support the campaign!
Pictures of the events are available on our Flickr site.