Know your Code competition winner
6 December 2013
Over 100 vets and veterinary nurses tested their knowledge of the RCVS Code of Professional Conduct by taking part in a competition at the London Vet Show on 21 and 22 November.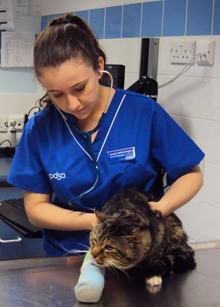 The competition, which was held on the RCVS stand, consisted of three true or false questions about the Code, covering the topics of delegating Schedule 3 tasks to veterinary nurses, disclosing information about clients and the Practice Standards Scheme.
A quarter of those who took part answered all three questions correctly and, out of those, the winner was Jessie Hetherington (pictured right), a veterinary surgeon at the PDSA PetAid Hospital in Sunderland.
For answering all three questions correctly Jessie wins a £50 App Store voucher.
Jessie says: "This year was my second time at the London Vet Show - I think it is a fantastic programme of quality CPD, and is amazing value!
"Thanks to the RCVS for its friendly and informative stand - answering the competition questions on the Code of Professional Conduct was a useful reminder of our professional guidelines and I never expected I would win!"
We will be looking at the questions which those who took part in the competition got wrong and will seek to improve knowledge in these areas through the Know your Code section of RCVS News.
Vets and veterinary nurses who want the Code of Professional Conduct and all 27 chapters of supporting guidance close to hand during practice can download the new and free RCVS Code app to their Apple and Android tablets and smartphones.
The mobile-friendly app has a keyword search tool, links to other sources of information and contact details for further information. Whenever the Code is updated the latest version will be available to download the next time the device is online.
To download the app for free please visit www.rcvs.org.uk/coderefresh.