In memory of Jean Turner
25 January 2022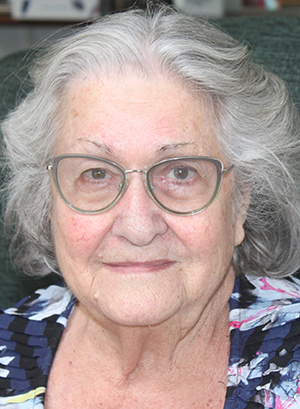 Following the sad news of the death of Jean Turner (pictured), a longstanding and prominent member of the veterinary nursing profession and the inaugural recipient of the Veterinary Nursing Golden Jubilee Award, Matthew Rendle, Chair of VN Council, has reflected on her impact on the profession.
"I am very saddened to hear of Jean's passing and my condolences go out to her family and friends. Just a few months ago I had the great pleasure of interviewing Jean for a special podcast as part of our celebrations of the 60th anniversary of the veterinary nursing profession. During our chat she spoke about her 50 years of experience in the profession and gave her reflections on how far it had come in that time.
"I can say from first-hand experience that Jean was a totally inspiring figure for me and many others in veterinary nursing, demonstrated by the fact she won the inaugural Veterinary Nursing Golden Jubilee Award for her enormous contribution. She received her award in 2011 at a special 'Looking back, stepping forward' event at Belgravia House where she and her husband Trevor gave a presentation on the past 50-year history of veterinary nurses, from the days of RANAs to RVNs.
"She was herself a significant contributor to the story of veterinary nursing, as someone who was dedicated to championing the value of the profession, providing her wisdom and insight to the next generation of veterinary nurses, and encouraging veterinary nurses to have pride and confidence in their skills and experience.
"She was closely involved in the British Veterinary Nursing Association (BVNA) and also contributed to the RCVS as an examiner and member of our Appeals Committee. She also served for seven years as a Trustee of charity partner RCVS Knowledge as its first veterinary nurse member.
"She will be very much missed by me and many others in the profession."
Amanda Boag, Chair of the RCVS Knowledge Board of Trustees, added: "We're deeply saddened by the news of Jean Turner's passing. Jean was a true pioneer of the veterinary nursing profession, who made a hugely significant impact to practice, as well as to the governance of many organisations, including the BVNA and RCVS Knowledge.
"Having qualified as a Registered Animal Nursing Auxiliary (RANA) in 1971, she saw the profession evolve and gain status in the veterinary world, and she tirelessly championed the important role that veterinary nurses in the provision of high-quality care. She became the first Vet Nurse on the RCVS Knowledge Trustee Board, which she served on from October 2012 to September 2019.
"Our thoughts are with Jean's family at this terribly sad time, as we remember her with the deepest admiration and gratitude."