Just over a week to make nominations for VN Golden Jubilee Award
14 April 2015
Veterinary nurses and veterinary surgeons - you have just over a week to put forward a nomination for the VN Golden Jubilee Award 2015.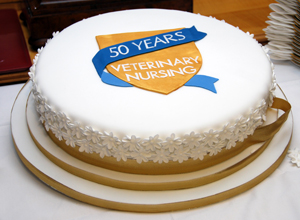 The Award is given in recognition of an outstanding contribution to the profession, animal welfare and/or patient care and nominees can be veterinary nurses, veterinary surgeons or lay people.
It was launched in 2011 to celebrate the 50th anniversary of the first RCVS veterinary nursing training course.
Nomination forms need to be submitted by 5pm on Friday 24 April. The principal nominator must be a registered veterinary nurse or veterinary surgeon although the two supporting proposers can be lay people.
The winner will be chosen by a panel of VN Council members and will receive the accolade at RCVS Day – our Annual General Meeting and Awards Day – on Friday 10 July.
For further information contact Annette Amato, Deputy Head of Veterinary Nursing, on a.amato@rcvs.org.uk or 020 7202 0713.