A Royal College Day focused on diversity and inclusion
30 April 2019
We are inviting our Members and Associates to attend this year's Royal College Day, which will see the investiture of the new RCVS President and Officer Team, a number of awards being bestowed upon members of the professions and a keynote speech on diversity and inclusion.
This year's Royal College Day – the RCVS Annual General Meeting and Awards Ceremony – takes place at the Royal Institute of British Architects (RIBA) on Friday, 12 July and free tickets to the event are now available to veterinary surgeons and veterinary nurses via our Eventbrite page.
The event starts with an Annual General Meeting during which the results of the RCVS Council election will be formally declared, new members welcomed to the Council and the College's annual report and accounts presented. Following this, a short Council meeting will see the formal election of the RCVS Officer team for 2019-20.
Dr Niall Connell was elected as Junior Vice-President for 2018-19 by his fellow Council members and is set to take over as RCVS President from Amanda Boag on Royal College Day, with Amanda moving to Senior Vice-President.
Mandisa Greene will be joining the Officer Team as the next Junior Vice-President, with Kit Sturgess standing for election as Treasurer once again. Following a formal election at Veterinary Nurses Council in May, Racheal Marshall will be looking to continue as the Chair for 2019-20.
Following the Council meeting will be the awards ceremony, where the following awards will be bestowed:
Queen's Medal – Professor the Lord Trees MRCVS
Golden Jubilee Award – Jane Devaney RVN
International Awards – Abdul-Jalil Mohammadzai and Dr Samuel Thevasagayam
Impact Awards – Professor Sarah Freeman FRCVS and Professor Paul McGreevy MRCVS
Inspiration Awards – Laura Muir MRCVS and Louise Northway REVN
More details about each of the award winners can be found on a previous news story about the award winners.
Also being presented on the day are two awards from our charity partner, RCVS Knowledge. This year's Knowledge Awards celebrate individuals and teams who have enhanced veterinary care by implementing quality improvement in practice. RCVS Knowledge will be announcing the winners, including the 'Champion Practice', in May during Veterinary Nursing Awareness Month.
The Veterinary Evidence Student Awards, new this year, highlight budding veterinary professionals who have produced outstanding research for publication in Knowledge's peer-reviewed journal.
You can find out more about both awards on the RCVS Knowledge website.
After the awards ceremony will be a number of speeches including from Amanda Boag as the outgoing President, Lizzie Lockett as CEO and the day's guest speaker Dr Patricia Mundy MRCVS who will be delivering a talk entitled 'Navigating Diversity and Inclusion in the Veterinary Profession'.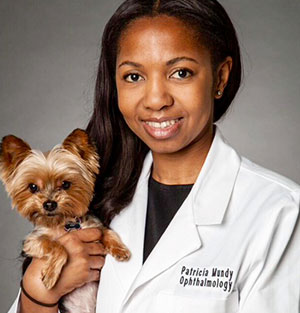 Dr Mundy (pictured right) is Clinical Instructor in Veterinary Ophthalmology at the University of Pennsylvania's Ryan Veterinary Hospital. She grew up in Zambia and was educated in the UK, receiving her degree in veterinary medicine from the University of Cambridge in 2005, following which she completed a small animal internship at the Royal Veterinary College before undertaking a Fellowship in Comparative Opthalmic Pathology, Veterinary Pathology and Pathobiology from the University of Wisconsin-Madison.
After completing a Comparative Opthalmology Residency at Cornell University she worked in private practice in New York City where she was the lead veterinary ophthalmologist for the New York Police Department. Dr Mundy joined the University of Pennyslvania School of Veterinary Medicine in September 2016.
Amanda Boag, RCVS President, invited Dr Mundy to speak and said: "I have known Tricia for nearly 15 years since we worked together at the RVC during her internship. It has been a pleasure to watch as she has subsequently forged a career in the US as a leading veterinary ophthalmologist and to reach her current position as an academic at the University of Pennsylvania in Philadelphia.
"As a black female academic working in a profession that is, both in the US and the UK, overwhelmingly white, she will be a great and inspiring speaker on the importance of diversity and the unseen challenges that those from minority backgrounds can face."
The full agenda for the day can be found at our dedicated Royal College Day webpage.