A webinar guide to the Professional Development Phase
12 June 2014
Veterinary students, graduates and their employers are invited to participate in a free webinar we have organised on the importance of the Professional Development Phase (PDP).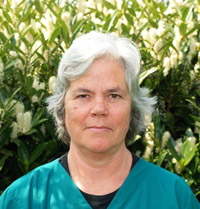 The webinar – titled The Professional Development Phase – helping build confidence – takes place between 8.30pm and 9.30pm on Tuesday 24 June and will be led by RCVS Postgraduate Dean Jill Hubbard (pictured right).

During the webinar Jill, who is responsible for helping graduates with any queries and monitoring their progress through the PDP, will be explaining why the Phase is important and how it helps graduates gain confidence and develop their clinical skills during their first year of practice.

The PDP is a self-assessment system that provides a structure for new graduates, allowing them to reflect on how their confidence and competence is developing across a number of clinical areas. This progress is measured against the RCVS Year One Competences – the standards expected of a veterinary graduate after one year in practice.

To participate in the free webinar please visit the Webinar Vet and register. A recording of the webinar will be available to listen to again from the Webinar Vet after it is broadcast.