College heads north for Countryfile Live 2019
31 July 2019
We are delighted to be exhibiting at BBC Countryfile Live 2019 for the fourth consecutive year and for the first time that it is being held in North Yorkshire.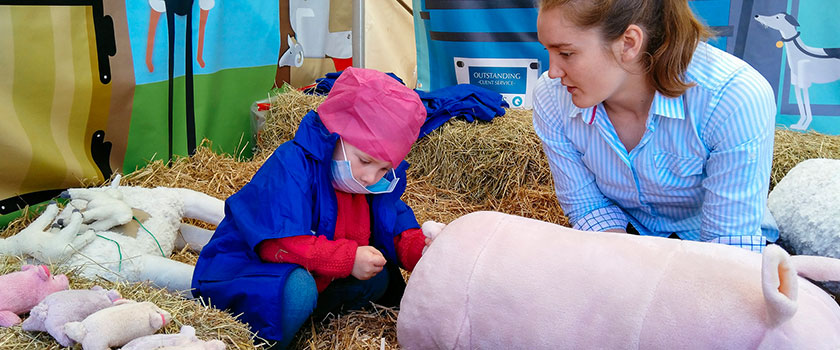 The College is exhibiting at the second of this year's Countryfile Live events, which will be held from Thursday 15 to Sunday 18 August at Castle Howard, near York. Having exhibited at Countryfile Live at Blenheim Palace in Oxfordshire for the last three years, the new location will enable the College to extend its public outreach activities in a different part of the UK.
Our staff will be on hand at stand I011, near the Dog Arena, to answer any queries about the veterinary professions and to share information on the College's role within the professions. RCVS Officers Racheal Marshall (Chair of Veterinary Nurses Council), Melissa Donald (RCVS Council Member) and Matthew Rendle (Vice Chair of VN Council Member), along with VN students from Askham Bryan College, will also be at the stand over the weekend to chat to animal owners and budding future vets and vet nurses.
Once again, the College's stand will feature its popular interactive veterinary practice setting, with information and literature about the College and the wider veterinary professions that show-goers will be able to take away with them.
"We recognise that school pupils start thinking about career options from an early age, which is why we'll have a range of vet and vet nurse career-related activities and information on our stand where children of all ages can learn about what's involved in working in the veterinary professions. This will include the chance to dress up as a veterinary professional and practise some veterinary procedures on our farm and companion animal models," says Ian Holloway, our Director of Communications.
"We'll also have lots of information for animal owners about RCVS-accredited practices and our Practice Standards Scheme, which aims to promote and maintain the highest standards of veterinary care. For peace of mind, owners can look for the RCVS accredited practice logo, which indicates that the practice has passed an independent assessment – something that can be particularly reassuring during the holiday season when people might be travelling with their pets and away from their usual practice."
We will post photos of our activities at the show on social media and afterwards on our Flickr page.