College launches 'CPD Champions' blog
1 March 2016
We have launched our new 'CPD Champions' blog written by and for members of the profession to encourage their colleagues to engage with continuing professional development (CPD).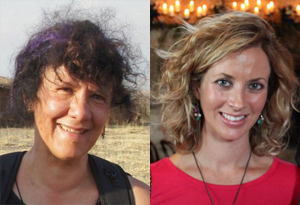 The CPD Champions blog will feature submissions by veterinary surgeons and veterinary nurses talking about a range of issues related to CPD including how to engage with it, how to make use of it in practice, how to record it, what type to undertake and balancing it with work and personal life.
At its launch the blog features two articles written by veterinary surgeons. One, by Vicky Williams MRCVS (pictured on right), a mother-of-two young children who works part-time in small animal practice, examines the balance between CPD, work and family life; the other, by Rosa Ragni MRCVS (pictured on left), who is originally from Italy and has worked in the UK since 2002, looks at the benefits of mentoring for both mentor and mentee.
Commenting on why she wanted to become a 'CPD Champion', Vicky Williams said: "I feel strongly that CPD is very important to maintain the skills, knowledge, confidence and enthusiasm of vets and also to maintain public confidence in veterinary surgeons. It can be tricky fitting in the required number of hours of CPD annually when working part-time with a young family like myself and many women in the profession are in a similar position, so I wanted to take part in this RCVS initiative to help share with others how I manage and maybe find out what other vets do in my situation."
Rosa Ragni added: "I decided to take part in the blog because I love learning, and wanted to communicate my enthusiasm to my colleagues. If we engage in CPD not only can we help our patients better, but we can make our work more interesting (for instance trying something new or noticing something that had escaped us previously), and also less stressful. A diagnosis can sometimes be a challenge, and CPD helps in connecting the dots."
Under our Code of Professional Conduct veterinary surgeons are expected to undertake 105 hours of CPD over a rolling three-year period, while veterinary nurses are expected to undertake 45 hours in the same period.
Christine Warman, our Head of Education, says: "We hope that these CPD Champions blogs will help other members of the profession to think about continuing professional development by sharing ideas and good practice, highlighting ways in which CPD can have an impact on day-to-day work and giving tips and pointers on different types of learning.
"It is important to note that CPD does not necessarily have to be expensive and time-consuming, it comes in many different forms including mentoring, webinars, clinical audit and work-based observation – the real value of CPD is how you use it and put it into practice."
Further information about CPD for veterinary surgeons and veterinary nurses is available.
We will be regularly updating the blog with articles from members of the profession. If you are interested in participating and becoming 'CPD Champions' then please contact Luke Bishop, Senior Communications Officer, on l.bishop@rcvs.org.uk with your idea for content.