College tackling the big issues at BSAVA Congress 2016
11 March 2016
We will be at the British Small Animal Veterinary Association (BSAVA) Congress next month where we'll be promoting our new Practice Standards Scheme and upcoming Ethics Review Panel trial, among other initiatives.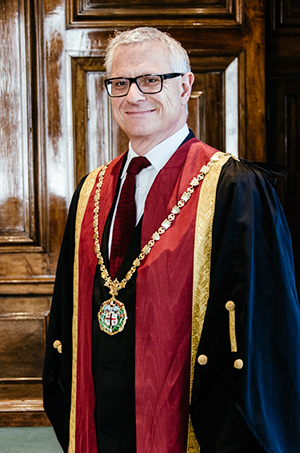 We will be on stand 105 during the Congress, which takes place from Thursday 7 to Sunday 10 April, at the Barclaycard Arena in Birmingham, where we will be on hand to answer questions about a range of different projects and initiatives including the new Practice Standards Scheme (PSS), the Mind Matters Initiative and the Vet Futures and VN Futures projects. Visitors to the stand will be able to take part in our 'Practice Standards Awards game' and be in with a chance of winning an iPad mini.
Members of our Standards and Advisory Team will also be available to talk to attendees about the College's trial of the Ethics Review Panel for practice-based clinical research, which is due to start accepting applications in August. Related to this, our President Dr Bradley Viner (pictured) will be taking part in a session on ethical review during the Journal of Small Animal Practice / Petsavers stream between 3pm and 3.45pm on Saturday 9 April where he will be giving further details about the Ethics Review Panel.
On the afternoon of Friday 8 April we will be holding two sessions. The first, between 2.05pm and 2.50pm, will be about the PSS with an update and questions and answers session about the new Scheme and its new Awards structure.
From 2.55pm to 3.45pm there will be an interactive workshop in which delegates will have the opportunity to provide feedback and ideas on how to strengthen and advance the veterinary nursing profession by reviewing Schedule 3 of the Veterinary Surgeons Act.
Members of RCVS Council will also be involved in two sessions during the 'Big Issues Stream' of the Congress on Friday. David Catlow, Chair of our Standards Committee, will be taking part in a panel discussion from 9am to 10.10am about what the term 'informed consent' means and how the profession can achieve it in practice.
Then, between 4.50pm and 6.30pm, Kit Sturgess will be involved in a discussion with representatives from the Society of Practising Veterinary Surgeons (SPVS), corporate employees and recent graduates about how to develop experienced vets.

We currently have a number of free 45-minute Practice Standards Scheme surgeries available at BSAVA Congress on Saturday 9 April 2016 for those who want to find out more about the new Scheme. To book a place please email pss@rcvs.org.uk or call 020 7202 0767. Places are assigned on a first-come, first-served basis.