College attends VET Festival for the first time
23 May 2018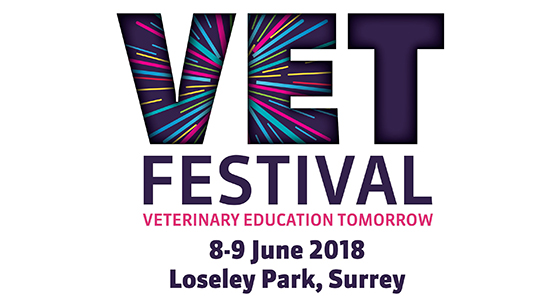 Our representatives and staff will be attending VET Festival for the first time this year to showcase its work on leadership, innovation and mental health.
VET Festival will be held on Friday 8 and Saturday 9 June at Loseley Park in Guildford, Surrey. College staff, along with members of RCVS Council and VN Council, will be on the stand both days promoting our recently launched RCVS Leadership initiative, our innovation hub, ViVet, and our mental health initiative, Mind Matters.
The RCVS Leadership initiative was inspired by the Vet Futures and VN Futures projects, and is part of the RCVS Strategic Plan 2017-2019 which has, as one of its ambitions, to "become a Royal College with leadership and innovation at its heart, and support this creatively and with determination." It is being run alongside our innovation project, ViVet, which was launched in September 2017, also under the Vet Futures banner.
The Mind Matters Initiative (MMI) was launched to increase the accessibility and acceptance of mental health support, and encourage a culture that better equips individuals to talk about and deal with stress and related issues.
Lizzie Lockett, RCVS CEO and MMI Director, will be giving two talks on the Friday during the 'Wellness & Practice Development' stream:
RCVS Mind Matters Initiative: Where are we now? – 9:45-10:30
Improved wellbeing in your practice: Some practical steps – 10:40-11:25
Ian Holloway, Director of Communications at the College, said: "We're delighted to be attending VET Festival this year for the first time. Profession-wide events such as this are invaluable opportunities for us to hear from veterinary surgeons and veterinary nurses, and discuss our ongoing work.
"We're particularly looking forward to discussing the Edward Jenner Veterinary Leadership Programme, a massive open online course (MOOC) on leadership for veterinary surgeons and veterinary nurses developed in conjunction with the NHS Leadership Academy, and explaining how to get more involved in ViVet – our network for veterinary innovation.
"Of course, if you'd just prefer to test your skills at our on-stand competition, then we'd love to see you anyway!"
For more information about the event, including purchasing tickets, please visit the VET Festival website. We have three two-days tickets to give away, so please visit our Twitter account and retweet one of our promotional tweets for a chance to win. Those wishing to purchase tickets can also use our discount code, RCVS10, to get 10% off the ticket price.
Further information about the Leadership Initiative can be found on our website, including how to sign up for the Edward Jenner Veterinary Leadership Programme. For more information about the ViVet innovation programme or the Mind Matters Initiative, please visit their websites.