European accreditation for UK veterinary nursing programme
25 June 2007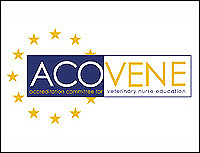 Warwickshire College is one of a group of seven European schools of veterinary nursing to have been accredited by ACOVENE (the European Accreditation Committee for Veterinary Nurse Education).
These are the first establishments to be accredited under a successful pilot project to develop a system for quality assuring veterinary nurse education in Europe.
Warwickshire College was one of two organisations to receive unconditional accreditation. Other accredited schools include institutions from Belgium, Denmark, Holland, Ireland, Italy and Sweden. All were visited by panels appointed by the pilot ACOVENE Board using accreditation criteria developed in association with the American Veterinary Medical Association.
The newly-accredited schools cover a wide range of courses in veterinary nursing, from the vocation level to higher education, and from a relatively small private college to university veterinary schools.
The pilot was funded with the support of the European Commission through the Leonardo da Vinci Programme. ACOVENE is now being established as a foundation with the support of the Federation of European Companion Animal Veterinary Associations (FECAVA) and the Veterinary European Transnational Network for Nursing Education and Training (VETNNET).
The long-term aims of the Foundation are to extend accreditation to schools of veterinary nursing in all European countries and to encourage the development of training courses in countries where these are currently weak or absent.
The pilot project board was chaired by RCVS Head of Veterinary Nursing, Libby Earle, and the RCVS will act as secretariat for the new foundation: "ACOVENE accreditation should help to build the confidence of veterinary employers in the professional education and skills training of veterinary nurses across Europe," she said, "We are delighted that a UK school was amongst the first to be accredited and that it performed so well against the criteria."
Angela North, Programme Area Manager for Veterinary Nursing at Warwickshire College, commented: "We are pleased to be able to offer European accreditation opportunities to suitably qualified veterinary nurses, it will provide exciting career opportunities within the profession."
Alida Moene, the pilot project co-ordinator, added: "The achievements of both the ACOVENE pilot board and the schools that have successfully achieved accreditation are fantastic; we now look to the future and the establishment of a Europe-wide network of accredited schools producing quality veterinary nurses for practice."