Excellent results in VN practical exams
24 January 2012
We're delighted to report that veterinary nursing students have achieved excellent results in the latest round of practical examinations, the pass lists for which we published recently.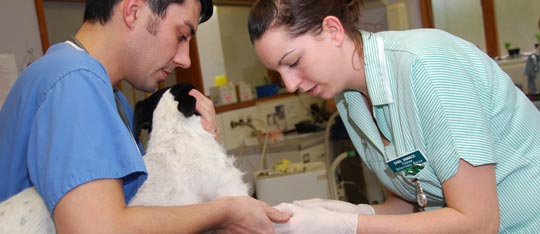 Of the 237 candidates attempting the new Level 3 Diploma practical exams (called Objective Structured Clinical Examinations or 'OSCEs'), 165 passed, giving a pass rate of 70%.
Many candidates also passed with a clear margin, with a third of those entering successful in ten or more of the 12 exam stations; to pass, candidates need success in at least eight stations.
Students sitting the old-style NVQ Level 3 practical exams also gained excellent results: of these 62 candidates, 49 were successful, resulting in a pass rate of 79%, the highest in recent times.
"Congratulations to all those who were successful – and to the colleges and practices whose support has been vital to these students' success," says Libby Earle, Head of the RCVS Veterinary Nursing Department.
"It is good to see VN students doing so well and particularly under the new Level 3 Diploma, since it is only the second time these practical examinations have been held."