Guildford Question Time will feature both vet and VN discussions
18 February 2015
During our next Regional Question Time, in Surrey, we will be trialling a new format by holding discussion sessions for both veterinary surgeons and veterinary nurses.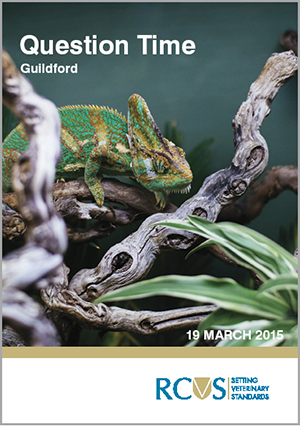 The free Regional Question Time will take place at the Holiday Inn in Guildford on Thursday 19 March. The evening will begin with a buffet supper at 6.30pm with the discussions beginning at 7.15pm with a panel comprising our President Stuart Reid, VN Council Vice-Chair Liz Cox, CEO Nick Stace and Registrar Gordon Hockey.
For the first half of the event vets and VNs will have independent sessions so that the issues which are relevant to them can be discussed – something that has been suggested by delegates at previous Regional Question Times.
The groups will then reconvene for the second half of the meeting to discuss topics which affect the whole of the veterinary team. The event will finish at approximately 10pm.
You can register for the event online. The deadline for registration is Monday 16 March.
In the afternoon before the event we will also be holding a number of free 45-minute Practice Standards Scheme surgeries with PSS Inspector Ean Garner-Richardson. These will take place between 12 noon and 5pm and are available for those who want to find out more about the Scheme or prepare for an upcoming inspection.
To book a PSS surgery, or for more information about the Regional Question Time, please contact Fiona Harcourt, RCVS Events Officer, on 020 7202 0773 or f.harcourt@rcvs.org.uk