Join us at our Dundee and Carlisle Regional Question Times in November
2 October 2014
Members of the profession will have the opportunity to question senior figures at the RCVS at two Regional Question Times being held back-to-back in November.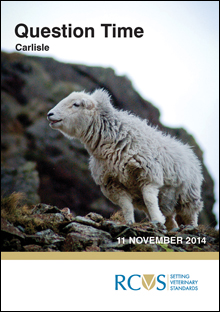 The first event will take place at the DoubleTree by Hilton in Dundee on Monday 10 November, while the second takes place at the Crown Hotel near Carlisle on Tuesday 11 November.
At both events there will be a buffet supper for guests at 6.30pm, with the Question Time beginning at 7.15pm and ending at approximately 10pm.
Stuart Reid, President, Nick Stace, CEO, Gordon Hockey, Registrar and Niall Connell, a member of RCVS Council and Vice-Chairman of VN Council, will be in attendance at both events.
Our Treasurer, Amanda Boag, will be attending the Dundee event while Kathy Kissick, the Chair of VN Council, will be at the Carlisle event.
Regional Question Times provide an opportunity for veterinary surgeons, veterinary nurses and other members of the practice team to directly question the College on a range of subjects.
The topics for discussion are left to delegates to decide but could include the results of our recently published Surveys of the Professions, Advanced Practitioner status, alternative dispute resolution and 24/7 emergency cover.
In the afternoon before both events we have also organised a number of free, 45-minute Practice Standards Scheme (PSS) surgeries for those who are interested in finding out more about the scheme, have queries about it or are in need of advice ahead of an inspection. The surgeries take place between 12 noon and 5pm on both days and are assigned on a first-come, first-served basis.
If you are interested in attending one of the two Regional Question Times please contact Fiona Harcourt, RCVS Events Officer, on 020 7202 0773 or f.harcourt@rcvs.org.uk by Monday 27 October. Please also contact Fiona to book a PSS surgery.