Membership exam success for overseas vets
24 July 2012
We celebrated the success of 15 veterinary surgeons passing the RCVS Statutory Examination for Membership with a registration ceremony held here at Belgravia House yesterday.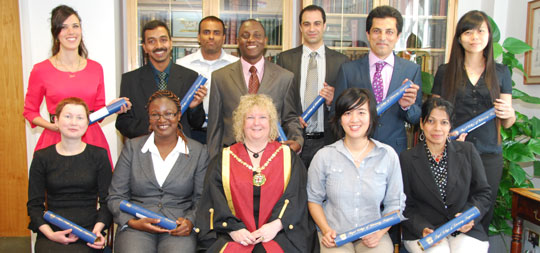 RCVS President Jacqui Molyneux welcomed 13 of the successful vets who were able to attend the ceremony.
"Your success is remarkable – especially for those whose first language is not English," she said, as she also acknowledged the role played by friends and families in the vets' success.
"The veterinary profession in the UK is small and welcoming, and you will find valuable support offered by the different members of the veterinary team as well as from professional organisations."
Registering at the ceremony was Mr Vahidreza Ardani, who qualified from the Islamic Azad University in Iran, where he practised for ten years as a large animal vet.
Your success is remarkable – especially for those whose first language is not English

Jacqui Molyneux
"It took me nearly three years of study to prepare for the IELTS [English language] exam," he said.
"I have also been seeing practice here for the past two and a half years, including at the small animal hospital at the University of Glasgow. I hope now to find work at a small animal practice."
Ms Olga Woolmer, who qualified from Perm State Agricultural Academy, Russia, also registered. Olga saw practice in several UK small animal and equine practices as preparation for the exam, whilst also working as an animal technician.
"I'm really grateful to all the practices that let me see practice," she said. "In particular, Burghley Veterinary Centre at Stamford helped me a lot in learning about what veterinary clients in the UK expect and how to sound confident when I give advice – which ultimately is best for the patient.
"It's great that I will soon be able again to do the work that I've trained so hard for."
The RCVS Statutory Examination for Membership is open to veterinary surgeons with a veterinary degree gained outside the UK that is not recognised by the RCVS, and who therefore cannot join the RCVS Register.
Candidates for the exam must also score at least 7.0 in the academic International English Language Testing System (IELTS) test, which is comparable to requirements for entry to UK veterinary degrees and those of other professional regulators.