New badge to identify registered veterinary nurses
5 October 2011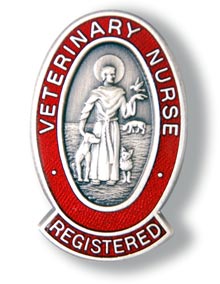 We are launching a new badge for registered veterinary nurses (RVNs) this week at the British Veterinary Nursing Association (BVNA) Congress in Kettering.
The launch ties in with the 50th anniversary of veterinary nurse training, and highlights the fact that RVNs, while qualified to the same level as their listed colleagues, stand apart because they additionally agree to account for their professional practice and keep their skills and knowledge up to date.
We introduced the non-statutory RCVS Register of Veterinary Nurses in 2007, and RVNs abide by a code of professional conduct, commit to continuing professional development and, from 1 April this year, can be taken to task via a disciplinary system.
The new badge builds upon the old version but with the word 'registered' underneath.
Plans for a more dramatic departure from the existing badge were dropped when the College saw the affection in which veterinary nurses held the traditional antique silver and red-enamel badge, introduced in 1984.
There is currently no legislation to protect veterinary nurses' title and area of work, but we have not stood still and the Register shows a real commitment to developing our status as professionals," says Liz Branscombe, Chairman of the RCVS Veterinary Nurses Council.
"We need to ensure this commitment is recognised by clients and others in the veterinary team, and hope the new badge will make it easier to identify who is professionally accountable.
The new badge will make it easier to identify who is professionally accountable
All those veterinary nurses qualifying since 2003 automatically became registered and those qualifying earlier could choose to do so. Currently there are 8,682 registered veterinary nurses, and 1,463 remain on the unregulated list.
The new badge will be presented to all those qualifying since 4 July 2011, and those registering earlier can purchase it for £15 (to cover the cost of the badge and engraving it with the RVN's individual number) until the 31 January 2012.
RVNs are under no obligation to purchase the new badge, although we hope that many will choose to do so to mark the step forward which the profession has made.
The Veterinary Nurses Council is developing proposals for statutory regulation to put to the Department for Environment, Food and Rural Affairs.
Meanwhile, Roger Gale MP will host a reception at the House of Commons on 11 October to celebrate the first half-century of veterinary nursing, and raise awareness of the benefits for animals and their owners of legal recognition of veterinary nurses.
If you're attending BVNA Congress this week (7 - 9 October) come and visit us on our stand in the gallery area to take part in a 50th anniversary quiz, collect your chocolate version of the new badge, and find out how to obtain the real thing!
Liz Branscombe will also be making a presentation on Saturday 8 October about the new disciplinary system for registered veterinary nurses.