New Chairs appointed for DC and PIC
18 October 2019
Two of the Royal College of Veterinary Surgeons (RCVS) statutory committees have appointed new Chairs. The first, the RCVS Disciplinary Committee (DC), has appointed Ian Arundale as its new Chair, with Dr Martin Whiting as the new Vice Chair. The second, the RCVS Preliminary Investigation Committee (PIC), has appointed Dr Bradley Viner as its new Chair.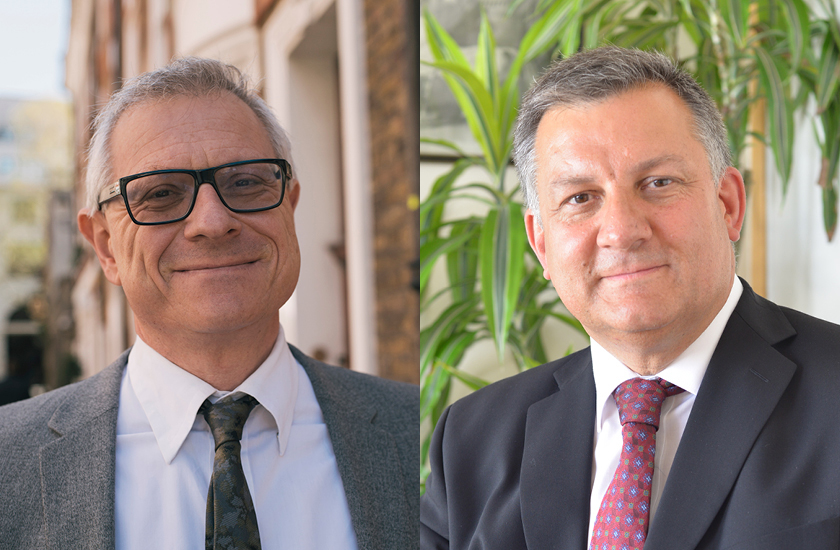 The Disciplinary Committee conducts the RCVS disciplinary hearings, tribunals where charges are heard against a veterinary surgeon alleging that he or she is guilty of serious professional misconduct (the wording of the Veterinary Surgeons Act 1966 is 'disgraceful conduct in a professional respect'), or that he or she is unfit to practise because of a criminal conviction.
Ian Arundale has now been appointed its new Chair following an application process from within existing Disciplinary Committee members, with the final interview panel consisting of Amanda Boag (President at the time), Ian Green (current DC Chair) and Miran Uddin (an independent barrister who works in regulatory law). He begins his role as chair in late October.
Ian Arundale replaces Ian Green, who chaired the DC from 2015 to 2019.
Ian is Deputy Chief Constable of Cleveland Police in the north east of England and was a police officer for 32 years serving in South Wales, West Mercia and Dyfed-Powys Police Forces. He currently provides expert witness services to inquests, courts and public inquiries. Ian has worked internationally and has assisted police forces and organisations in the USA, India, the Far East and New Zealand.
In addition to his work with the RCVS, Ian is also the Chairperson of the Audit Committee for the City of Cardiff Council and is a board member of the International Law Enforcement Forum (ILEF).
"I am pleased to have been selected as DC Chair and am looking forward to chairing the committee. The role of the DC is crucial to ensuring the RCVS protects and upholds the high standards of the UK veterinary professions, and I am humbled to be in a position to support this important function," says Ian.
Dr Martin Whiting has also been appointed as the new Vice Chair for the DC. Dr Whiting qualified as a veterinary surgeon from the Royal Veterinary College (RVC) in 2006. Following a few years in practice, he returned to academia to complete a Masters in Medical Law and Ethics and a PhD in the public interest in veterinary professional regulation.
Martin was appointed as Lecturer in Veterinary Ethics and Law at the RVC in 2013 and became an RCVS and European Specialist in Animal Welfare, Ethics and Law. In 2017, Martin moved to the Home Office to work with the Animals in Science Committee and is currently the Head of Operations for the Animals in Science Regulation Unit.
Dr Bradley Viner has been appointed as the new Chair of the RCVS PIC and began his role on 1 July 2019.
The PIC is a statutory committee tasked with investigating concerns made to the RCVS in which there is an arguable case for serious professional misconduct.
The Committee meets every fortnight to decide if there is a realistic prospect that the conduct of the veterinary surgeon in cases before them will be found to have fallen far below the standard expected and should be referred to the Disciplinary Committee, or whether they should be handled in an alternative way.
Bradley was appointed through an independent selection process led by an external HR consultancy, with RCVS Council ratifying the final appointments.
Bradley replaces Andrew Ash, who chaired the PIC from July 2015 up until Bradley's appointment.
Bradley established his own small animal practice in Pinner, Middlesex, which then grew to a group of five practices in north-west London. In 2017 he sold his practices to the Linnaeus Group and now works for them as Group Clinical Quality Lead across all their sites.
He was made a Fellow of the Royal College of Veterinary Surgeons in 2017 for Meritorious Contributions to Clinical Practice. Bradley was an elected member of RCVS Council between 2005 and 2017, including four years as RCVS Treasurer and one year as RCVS President in 2015-16.
"I was delighted to have been selected as Chair of this Statutory Committee as I feel it is one of the most important interfaces between the College, the profession and the public. It has a vital role to play in protecting animal welfare and the reputation of the profession, but I am well aware that fear of disciplinary proceedings can be very stressful to those involved.
"I undertake to continually strive to work to find a balance that ensures the Committee maintains a well-regulated profession acting in the public interest but also makes every effort to avoid causing unnecessary stress on members that are subject to its proceedings," says Bradley.
On the recent appointments, RCVS Registrar Eleanor Ferguson added: "As chairs of our statutory committees, both Bradley and Ian will play a crucial role in upholding the integrity of and public confidence in the veterinary profession. I have no doubt that they are well-equipped for the roles, bring a wide range of skills and experience, and will chair these important committees effectively."
For more information about the RCVS concerns investigation and disciplinary processes visit its dedicated section on this website.