Record numbers of overseas vets join the Register after passing Stat Exam
26 October 2023
A record number of successful candidates for the RCVS Statutory Examination for Membership were welcomed to the Register of Veterinary Surgeons on Tuesday 24 October, at a special ceremony recognising their achievement.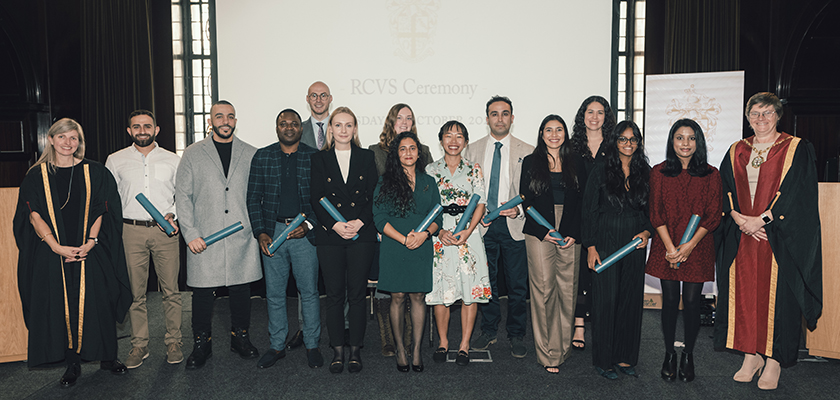 The Statutory Examination for Membership (better known as 'the Stat Exam') needs to be undertaken by those overseas veterinary surgeons who hold veterinary degrees that are not recognised by the RCVS. The exam is made up of two components (each covering the three species domains of companion animal, production animal and veterinary public health, and equine): a written theory exam, and a practical Objective Structured Clinical Exam (OSCE). Candidates must also have demonstrated their English language competence and professional good standing before being entered into the exam.
This year, a record 27 candidates passed the Stat Exam and are eligible to join the UK Register. Thirteen of these attended the ceremony, which was hosted by RCVS President Dr Sue Paterson FRCVS and RCVS Chief Executive Lizzie Lockett at The Law Society in London.
Speaking at the occasion Sue said: "I would like to start by congratulating all of you for the enormous hard work, commitment, drive and determination that you have shown in taking and passing the RCVS Stat Exam. It is particularly gratifying that, for the first time, we are welcoming to the Register someone with refugee status who has passed the exam.
"I had a look at the wide range of countries that we have represented amongst our successful candidates this year. I think, perhaps with the exception of the polar regions, we have vets from every continent. Alphabetically, the countries range from Belgium, Brazil and Bulgaria to Trinidad and Tobago, Turkey and Zimbabwe. In total, 19 countries. We are delighted to welcome you all to the veterinary profession in the UK."
After leading those in attendance through their professional declarations, Sue formally welcomed them as Members of the RCVS, able to practise veterinary surgery in the UK.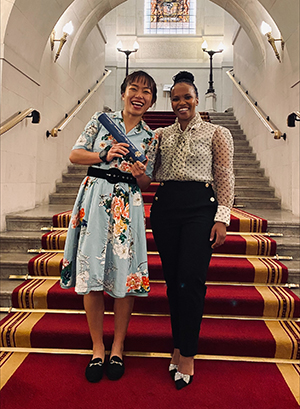 In attendance on the day was new registrant Dr Lyera Xin Ying Lye MRCVS with her friend and supervisor Dr Mzikazi 'Zee' Ndzengu MRCVS (pictured) who had helped Lyera with preparations for the Stat Exam at her practice in Falkirk, Scotland.
Mzikazi said: "Lyera came to see practice whilst she was preparing for her OSCE and I shared my experiences with her of interacting with clients and their pets and animal handling. As I also come from a different country, in my case South Africa, I thought it would be useful to give someone who is preparing for the Stat Exam a perspective on what it is like to work in the UK."
Lyera, who is from Malaysia and graduated from the National Taiwan University in 2020, said: "Working with Zee and shadowing her and her colleagues at the practice really helped me to prepare for the communications side of veterinary work, as well as my practical exam and also in understanding how the veterinary industry and profession works in the UK. I also made a friend for life as well!"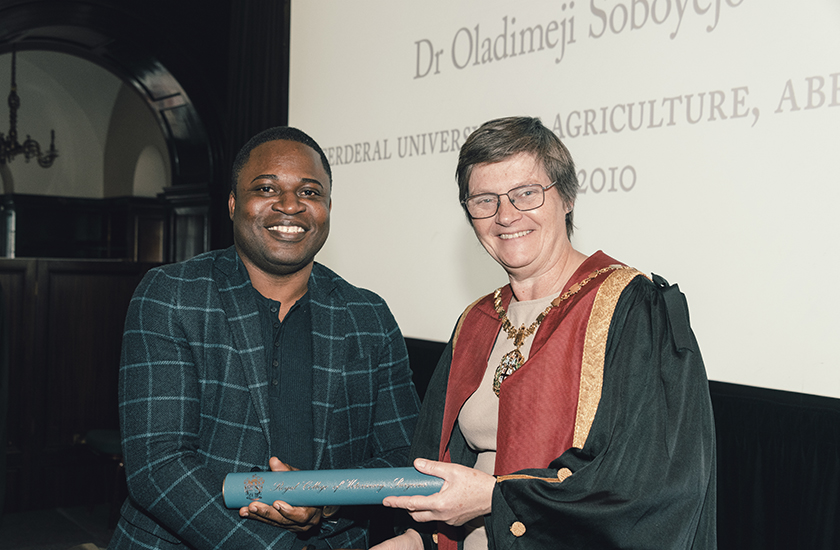 Dr Oladimeji Sobeyo MRCVS (pictured with Sue) graduated from the Federal University of Abeokuta in Nigeria in 2010 and, after being in small animal practice for 10 years in his home country, moved to the UK in 2021, working as a veterinary care assistant while he prepared for his Stat Exam. Having passed the Stat Exam, he is now working at a practice in West London. He said: "It was a great feeling to pass the Stat Exam first time and know that I can now continue my career as a veterinary surgeon in the UK.
"When I saw practice while preparing for the Stat Exam, I had the opportunity to work in an emergency clinic which was a new area for me. I found emergency and critical care very interesting, so I hope to do further work and qualifications in this area now."
'Seeing practice' is a formal process in which overseas veterinarians can take a reasonable period of time in preparation for sitting the Stat Exam. 'Seeing practice' means exam candidates can undertake placements in veterinary practices here in the UK to gain experience and insight into what life as a UK vet is like. Practices that wish to volunteer as a venue for Stat Exam candidates to see practice should contact [email protected]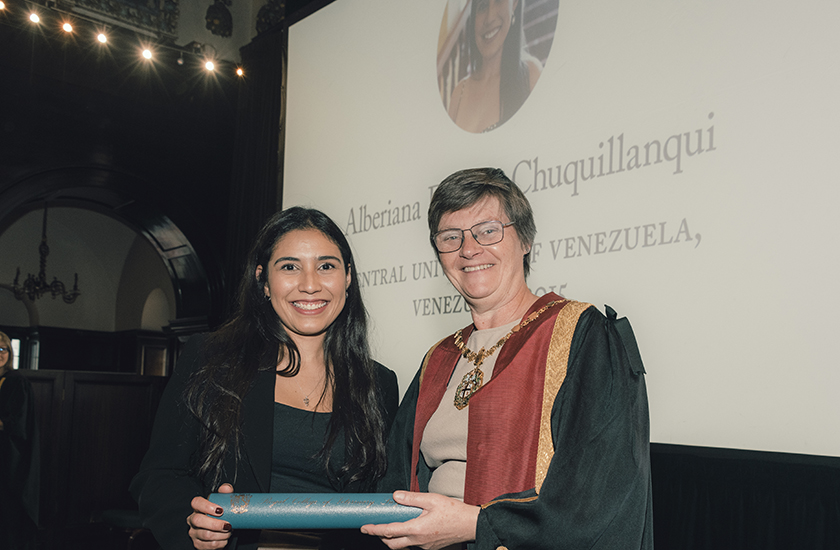 Another of those attending the ceremony was Alberiana Chuquillanqui MRCVS (pictured with Sue), a 2015 graduate of the Central University of Venezuela in Caracas. She moved to the UK in 2017 and has been working as a manager a veterinary practice in Chelsea. She said: "The exam was hard, but I am very happy with the results and I am looking forward to going back into my profession and into a clinical role at the practice where I have been working for a number of years."
An interview with the first refugee to pass the Stat Exam, who for their own and their family's safety is anonymous, can be found on the Features section of the RCVS website.
They were supported to undertake the exam by the College's refugee support scheme which, in partnership with the Refugee Council and a number of other veterinary organisations, provides financial and learning support to those with refugee status who wish to undertake the Stat Exam.
Further information about registration for overseas vets, which degrees are and aren't recognised by the RCVS, can be found on the Stat Exam section of the RCVS website.