Thirteen 'Santas' running raise over £1,400
13 December 2012
Christmas has come early at the RCVS Charitable Trust as 13 'Santas' running have raised over £1,400 in the DoitforCharity Santa Run.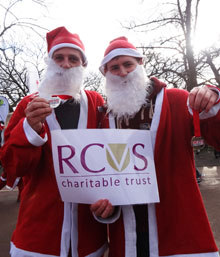 Teams from Prince Bishop Veterinary Hospital and Blythwood Veterinary Group joined three RCVS staff members, including Chief Executive Nick Stace, to dress up for the festive run, which took place on Sunday, 9 December in Greenwich Park, London.
Runners opted for a five or ten kilometre course, with Nick, pictured (left) with Rob Simpson, braving the longer run.
Canine support was also offered by five dogs who ran alongside their owners.
We would like to say a huge 'thank you' to all our supporters both in the Santa run and throughout the year.
The money raised will enable us to continue helping veterinary surgeons and veterinary nurses provide the best possible care for animals.
Donations for the Santa run can be made via Nick Stace's Doitforcharity page until 13 January 2013.
Over 2,500 runners turned out to raise money for hundreds of different charities. Their costumes were provided by the run organisers, DoitforCharity.