Those who go above-and-beyond the call of duty sought for RCVS honours
6 July 2015
We are now accepting nominations for 2016 for our two honours which recognise those who have made an outstanding contribution to the veterinary profession and veterinary science.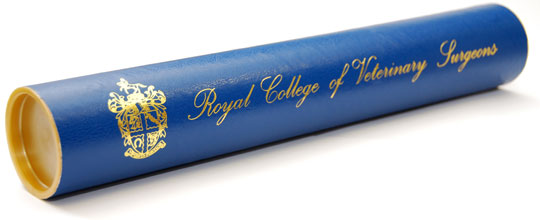 The Queen's Medal is the highest honour that we can award to a veterinary surgeon and is available to members of the profession who have had a highly distinguished career and whose achievements deserve special recognition. Only one Queen's Medal can be conferred every year.
The Honorary Associateship is conferred to a small number of non-members of the RCVS who have made a significant contribution to the veterinary sphere. Previous recipients have included veterinary nurses, scientists, farmers, journalists and charity workers.
The closing date for nominations for either honour is Friday 11 September 2015. The honours will be conferred at RCVS Day 2016 which will take place on Friday 15 July 2016. Nominations for the Queen's Medal can only be made by members of the RCVS, while nominations for Honorary Associateship can be made by veterinary surgeons, veterinary nurses and laypeople.
As a result of a decision made by our Council in June 2015 to restructure the RCVS Fellowship, we will no longer be conferring Honorary Fellowships, although all previous recipients will retain their HonFRCVS status. The last Honorary Fellowship will be awarded at this year's RCVS Day on Friday 10 July.
You can find out more about making a nomination on our dedicated honours page. If you have any queries please contact Peris Dean, Executive Secretary, on p.dean@rcvs.org.uk or 020 7202 0761.
NOTE: This story was amended on 8 July 2015 to reflect the fact that next year's RCVS Day will take place on Friday 15 July 2016.