Vet Futures: Can vets work better together by playing to their strengths?
8 July 2015
In this month's Vet Futures blog, Erwin Hohn and Adi Nell, Senior Partners at Medivet, argue that the way forward for veterinary practices large and small is to work better together by following nineteenth-century economist David Ricardo's stricture – stick to what you do best.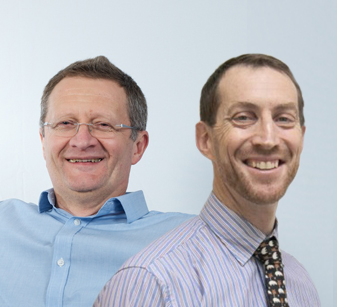 In Medivet practices, say Erwin and Adi (pictured), "we play to our vets' strengths by allowing each one to do what they do best. We'll refer to each other internally or between branches in a group. That's just what Ricardo suggested."
The innovation suggested by Erwin and Adi is for individual vets to expand this principle out to work collaboratively with external parties – even "those we think of as competitors, both veterinary and non-veterinary. This would serve to advance the health and wellbeing of our patients, not just cure or prevent disease."
Taking on board the ethos of the Vet Futures project, a joint RCVS and BVA initiative that seeks to help the veterinary profession shape and prepare for its future, Erwin and Adi argue for an extension of what, to a certain degree, happens already, such as the sharing of out-of-hours work or referrals to specialist centres.
The pair argue: "We can apply this more widely. Breeders could refer puppies to a small vaccination clinic. That branch does the vaccination, but sends the puppies to a larger practice for x-rays when they're lame.
"In turn, the larger practice sends its inoculations to the vaccination clinic or small satellite, and they refer clients who want to buy puppies back to the breeder. I could, for example, support your investment in an MRI unit and you could support my laparoscopic surgery.
"This is how many human community health programmes work all round the world, right now."
Refuting the claim that such working might be 'pie in the sky', Erwin and Adi make the case that such a collaborative approach deals with many of the challenges the profession has identified, including reducing costs and enhancing financial viability as well as offering a way in which corporates can become part of the solution for smaller and independent practices.
Erwin and Adi argue: "It's easier to develop business skills for a narrower range of services than a much broader one – and it's easier to choose your own hours. That same focus makes regulators and legal compliance easier. Non-veterinary competitors become collaborators. Rising costs are controlled by the same narrower focus, and evidence-based medicine is enhanced by sharing outcomes."
In relation to Erwin and Adi's blog this month's Vet Futures poll asks "To what extent would you be willing to work collaboratively with others if it would benefit you all: Not at all, To some degree, A lot or Completely?"
Last month's poll focused on the balance between business skills and veterinary practice as a caring profession, asking "Can vet practice embrace the need for better business skills without damaging its reputation as a compassionate profession?"
This was based on the blog written by John Sheridan, a management and business consultant to the veterinary profession and former BSAVA and VPMA President, who argued that veterinary businesses must be viable to continue to care and that "better business is essential for better medicine."
A significant majority of those who responded to the poll agreed that veterinary practice can embrace better business skills without damaging its reputation as a caring profession: 81% of respondents answered "Yes", 14% said they were "Unsure" and only 5% answered "No."