Veterinary mental health researchers gather for Fourth MMI Symposium
20 October 2023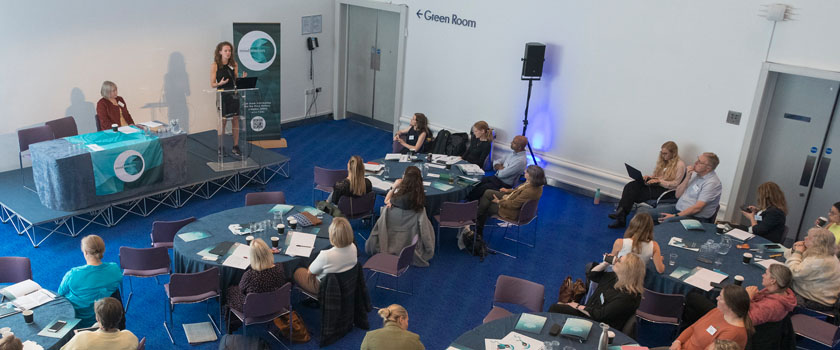 On Tuesday 10 October, our Mind Matters Initiative held its fourth biennial mental health research symposium at the Bridgewater Hall in Manchester.
The event saw veterinary mental health researchers from across Europe come together to share their insights into a variety of areas of veterinary mental health including moral injury, suicide and suicide prevention, the impact of racism, veterinary nurse mental health, and workplace stressors for autistic veterinary professionals. There was a total of 77 attendees, including a mix of academic researchers and veterinary professionals.
The day opened with a welcome from Dr Kate Richards MRCVS, Chair of the Mind Matters Initiative. Kate provided the background to MMI before laying out the proceedings for the day which began with a talk from keynote speaker Dr Leah Quinlivan, Research Fellow and Chartered Psychologist at the University of Manchester, who presented on 'Evidence-based care for people who have self-harmed: risk prediction, psychosocial assessments, and aftercare.'
RCVS CEO and MMI founder Lizzie Lockett then introduced the Sarah Brown Mental Health Research Grant, which has been awarded for five consecutive years. The grant was first set up in honour of former RCVS Council member and veterinary mental health advocate Sarah Brown, who took her own life in 2017. Lizzie highlighted Sarah's brilliant work and thanked Sarah's family for their ongoing support of the grant. She then went on to formally present the grant to this year's recipients, Dr Jackie Hargreaves and Dr Faye Didymus, researchers from Leeds Beckett University, who will be running the last of six research projects funded in Sarah's name. Their research project will be taking a deep dive into whether there is adequate mental health education in the student veterinary nursing curriculum.
The five previous Sarah Brown Research Grant recipients were then each invited to the stage to provide updates on their research projects. These were:
Dr Kate Lamont: How Farm Vets Cope: A summary of the project funded by the Sarah Brown Mental Health Research Grant (Year 1), including 'take home' messages and post-project activity;
Dr Victoria Williamson: Experiences and impact of moral injury on UK veterinary professional wellbeing;
Dr Navaratnam Partheeban: Solutions that could make a difference to the impact of racism on Black and Minority Ethnic People working and studying in the UK veterinary profession;
Dr Kirstie Pickles: Autistic veterinary surgeons in the United Kingdom: Workplace stressors and mental wellbeing; and,
Dr Katherine Wakelin and Sarah Corthorne: An online compassionate imagery intervention to improve psychological wellbeing for veterinarians: A randomised control trial.
The proceedings then paused for lunch and networking, before talks recommenced in the afternoon. These talks took a quick-fire approach, with each researcher having 15 minutes to present their work. These talks provided insight into a range of important topics and included presentations from seasoned academics as well as those just starting out in their careers. These sessions were chaired by Angharad Belcher, Director for the Advancement of the Professions, who oversees the work of the Mind Matters Initiative.
Angharad then took to the stage to talk about the work of MMI, including its newly published 5-year strategy and evaluation documents. Within her talk she shared her thoughts on the day, stating: "I've really enjoyed hearing from everybody who has shared their research and I love the part where everybody goes out and starts engaging in discussion and thinking about what might be, and where this can all take us. What solutions we might be able to find. What different strategies we might be able to employ. But most of all it's about the shared desire to raise awareness of mental health and to address stigma and discrimination."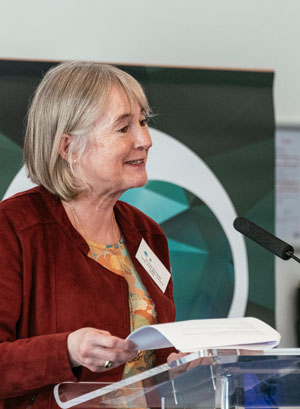 Dr Kate Richards (pictured right) then provided closing remarks for the day, stating: "What a day. I'm just so honoured to be the MMI Chair and really humbled by the passion, the commitment and generosity demonstrated by everybody throughout today.
"Today has been about a vast variety of topics with presenters from veterinary backgrounds, veterinary nurse backgrounds, medical science backgrounds and social science backgrounds. I think the power and the huge synergies from cross disciplinary working is a real motivator for me. Just to see everybody in the room sharing and collaborating, learning from one another, I think, is extremely powerful."
A breakdown of the day, including talks abstracts and speaker bios, is available to access on the MMI website. Videos of the day and a full report will be available to view in due course.
If you're currently struggling with your mental health, Vetlife is there for you 24/7 and can be reached on: 0303 040 2551. The Samaritans also provide 24/7 support and can be reached on 116 123.