Veterinary professionals who go above and beyond to be celebrated at 2021 RCVS Honours & Awards evening
17 September 2021
Next week [Thursday 23 September 2021] we will be formally recognising the extraordinary achievements of some of those who work in and around the veterinary professions at this year's Honours & Awards evening which is held on Thursday 23 September and is now open for registration.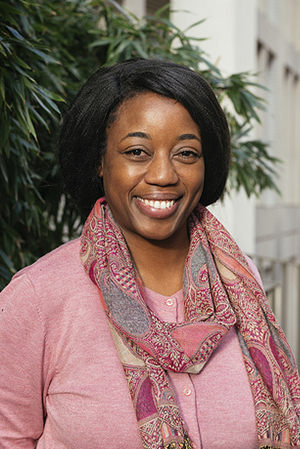 The event is hosted by RCVS Senior Vice-President Mandisa Greene (pictured) and will see the formal bestowal of this year's suite of RCVS Honours & Awards including the RCVS Queen's Medal and Honorary Associateships, the RCVS Impact, Inspiration and International Awards, and the new Compassion and Student Community Awards, as well as the RCVS Knowledge awards and the Sarah Brown Mental Health Research Grant
This year's guest speaker will be Dr Emily Collins-Wingate MRCVS with her talk entitled 'Class of Covid-19: the highs and lows of graduating through a pandemic. Emily graduated in 2020 from Surrey Vet School, where she acted as President of the Veterinary Society for two years, and is now in farm animal practice in the South East of England. She is known for her presence on social media which she uses to promote the farming industry, raise awareness of the role of farm vets and reach out to current and prospective students.
All members of the professions can now register to attend the event, which takes place from 7pm on Thursday 23 September 2021, where they can join the awardees, their family and friends to find out more about their achievements, celebrate their success, and listen to Emily's speech.
Those who wish to attend can register by visiting the event registration page. For further information you can also email events@rcvs.org.uk
Mandisa Greene said: "I am honoured to be hosting this evening which is a fantastic opportunity to recognise the achievements of veterinary surgeons, veterinary nurses and others who are doing great things for animal health and welfare, the profession and society at large at all stages of their careers.
"The example they set demonstrates that the veterinary sector is a force for societal good and each of our award winners will have specially-made illustrations and animations which will be played on the night to give an overview of what they have achieved and why they've won the award. It promises to be a fun and informative experience and I hope that many of you are able to attend.
"With so many years of collective experience and achievement in the room, I decided it would be interesting to turn things on their head a little this year and invite an inspiring guest speaker who is just at the very beginning of her career, and who can give some fresh perspectives to some of us who may have qualified some time ago. I asked Emily to be this year's keynote speaker after hearing her talk so passionately about her experiences of training and graduating during the height of the pandemic, and how it set her up for her first farm vet role - I'm sure you will find her talk as eye-opening and engaging as I did."
The list of award winners being recognised on the night, some of whom have also provided short pre-recorded speeches, is as follows:
RCVS Knowledge Champion/ Quality Improvement in Practice: CVS South Hub, Dr Jessica Pennock; The University of Glasgow, Samantha Fontaine RVN; and Plymouth Veterinary Group (IVS Evidensia) & CVS Small Animal Team.
RCVS Knowledge Veterinary Evidence Knowledge Summary Student Award: First place - Alexandra Bartlett from the Royal Veterinary College; Second place - Erina Leask from the University of Sydney, School of Veterinary Science, Australia; and third place - Eleanor Best, from the University of Bristol Veterinary School.
Mind Matters Initiative Sarah Brown Mental Health Research Grant Award: University of Nottingham Veterinary School – Dr Kirstie Pickles MRCVS and Bradley Hill MRCVS
RCVS Honorary Associateship Award: Emeritus Professor Stuart Carter and Anthony Martin
RCVS Student Community Award: Jack Church and Lavinia Economu
RCVS Compassion Award: Dr David Martin MRCVS and Olivia Wassell RVN
RCVS Impact Award: Dr Gwenllian Rees MRCVS and Alison Lambert MRCVS
RCVS Inspiration Award: Dr Daniella Dos Santos FRCVS and Professor Mandy Peffers FRCVS
RCVS International Award: Emeritus Professor Michael Day FRCVS
RCVS Veterinary Nurses Golden Jubilee Award: Kirsten Cavill RVN
RCVS Queen's Medal: Dr John Glen MRCVS
Further information about each of the recipients and the event itself is available.